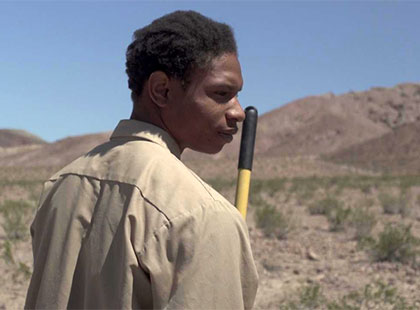 Victoria
ABOUT THE PROJECT
LOGLINE
In the Mojave Desert lies the unfinished California City, where Lashay Warren (25) tries to build a new life, leaving a turbulent past in Los Angeles behind him
SYNOPSIS / DESCRIPTION
VICTORIA unfolds itself as a diary, showing fragments of Lashay Warren's life and the people around him in California City.

Fifty years ago, an eccentric developer created "California City" in the Mojave Desert. Thousands of kilometers of streets were carved into the desert landscape and each got its own name. The city was ready to welcome hundreds of thousands of people, but they never came. Only 12.000 people live in California City today. It is a vast desert landscape, filled with empty streets. Nevertheless, new villagers, like Lashay Warren (25), keep finding their way to the "empty city." Leaving the violence and poverty in Los Angeles behind, he now lives in California City with his girlfriend and their five children.

In the middle of this unfinished city, existing of thousands of empty crumbling streets, Lashay now tries to carve out his own path. Together with other young people, who have traveled from Los Angeles trying to start again, he works to rebuild the city.

Lashay reads fragments from his diary, where he writes down his experiences. From these fragments we learn his amazement with his new surroundings but also his memories popping up. Los Angeles still seems to be a dark, slumbering presence, despite the distance.

The diary excerpts are like those of the pioneers who traveled to undiscovered land centuries ago. The West has always been a place to reinvent yourself and just like them, Lashay discovers this new land as a modern day pioneer. Determined, he makes his way through the streets, making up names for the streets and the city itself. In his hands, California City becomes Victoria. He immortalizes his own name by carving Lashay Warren into a rock. And just like that, he writes his own story, into the bigger narrative of America.
---
GENRE Documentary Feature

DIRECTOR Sofie Benoot, Liesbeth De Ceulaer, Isabelle Tollenaere
PRODUCER Bo De Group, Helena Vlogaert

WEBSITE caviar.tv/project/printed-circuit
---
Please help support this project with a tax deductible contribution.