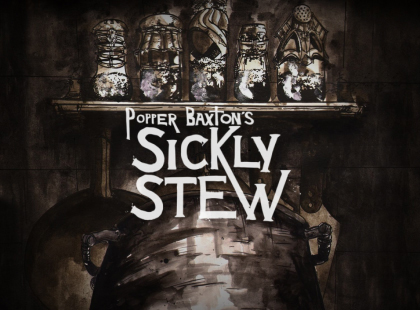 Popper Baxton's Sickly Stew
ABOUT THE PROJECT
LOGLINE
A young and ambitious but failing chef's dreams of culinary fame turn nightmarish when he's tempted by some persuasively sinister spices.
SYNOPSIS / DESCRIPTION
We see POPPER BAXTON'S SICKLY STEW as a cool, fresh spin on the Faust fable combined with LITTLE SHOP OF HORRORS and a bit of RATATOUILLE—set in the cut-throat culinary world.Popper Baxton is a young, ambitious chef with a failing cafe, a bitter rival, and an unfortunate dedication to a stew recipe that nobody wants to eat. Each night, he sees throngs of hungry, eager diners line up across the street for the swill his arch rival, Edgar Shrill, regularly slings out and thinks, "why can't I be just as successful?" For starters, Popper's trademark stew stinks. As in, literally.

Those few, brave patrons who have been able to get past its stench know that, while it may stink to high heaven — it tastes heavenly. But that's not enough to keep his floundering eatery alive. On his last leg, Popper stumbles upon a cache of persuasively sinister spices guaranteed to cure his sickly stew and give him his long-awaited success. In no time, the insidious stew is flying off the shelf as customers clamor for more. But just as soon, his fans begin exhibiting troubling side effects, from skin blemishes to all-out crime sprees. Popper's culinary dreams blossom into a nightmare as his rise to fame causes his world to fall. Chaos unfurls as no one can get enough of his sickly stew.
---
GENRE Narrative Feature

DIRECTOR John Dylan Roberts
PRODUCER Jeffrey Kurz, Chip Duncan

WEBSITE popperbaxton.com
---
Please help support this project with a tax deductible contribution.