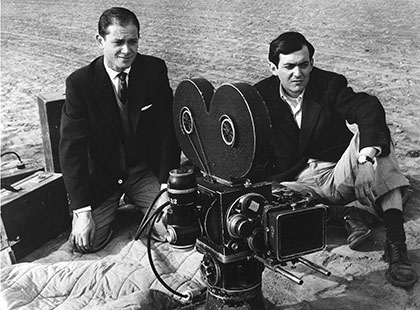 Harris Kubrick
Genius Takes Two
ABOUT THE PROJECT
LOGLINE
In 1952, a handshake between producer James B. Harris and director Stanley Kubrick created three classic films. Harris makes films still, at age 89. This is his untold story
SYNOPSIS / DESCRIPTION
Genius does indeed take two, because there is no great achievement in this world that can be brought off by one person alone. Great individual talent is always a marvel, at times a miracle—but the impact we have in this world is entirely dependent on those we choose to work with, make lives with. When two matching talents come together, as they did in the lives of James B. Harris and Stanley Kubrick, there is no stopping them…

Harris discovered Kubrick, produced the three features which defined him—The Killing, Paths of Glory and Lolita—launched the fourth, Dr. Strangeloe, and then broke away to direct his own dazzling films—The Bedford Incident, Some Call It Loving, Fastwalking, Copy And Boiling Point—each of them critically acclaimed and well worth discovery. And now at age 89, Harris is hard at work on his next picture.
---
GENRE Documentary Feature

DIRECTOR F.X. Feeney
PRODUCER Mark Earl Burman, Susan Canova Vercellino

WEBSITE hkdocumentary.net
---
Please help support this project with a tax deductible contribution.