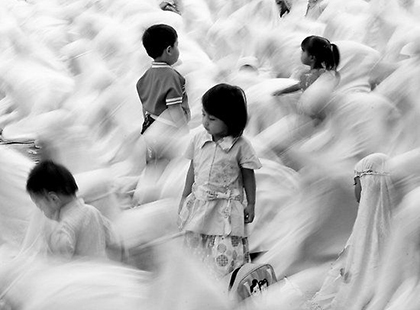 Forbidden Steps
ABOUT THE PROJECT
LOGLINE
At a heightened security time, Majeed, a Muslim cop in Chicago, is forced to question where his loyalties truly lie when his orthodox, estranged father, Baba, unexpectedly visits from Pakistan. Meanwhile, Dua, Majeed's daughter, is concurrently forced to pirouette between her passion for dance and her roots.
SYNOPSIS / DESCRIPTION
In the wake of the recent Paris attacks and the San Bernardino shootings, FORBIDDEN STEPS is a film that you want and need to watch. Also, in the wake of Pulitzer Prize-winning Broadway play Disgraced and the recently Oscar nominated Mauritanian film Timbuktu, the world is finally ready to have a discussion about a culture that is deemed foreign and forbidden to many. By humanizing the conflict and taking a closer look at a tender father-daughter relationship, we believe this film will be a pioneer in cinematic conversations about Muslim immigration in and to the US and the dramatically termed "clash of civilizations". This is the backdrop of the narrative feature film FORBIDDEN STEPS.

The film is set in Chicago, home to a sprawling melting pot of South Asian immigrants and their businesses in America—Hindu, Sikh, Muslim, Christian, diverse. Whilst there is certainly mixing, much like back in their native lands, the mosques, churches, temples and gurdwaras (Sikh Temples) very much stand tall as reminding dividers for the community. Despite living in America, the insecurity of identity keeps these communities very closed off and locked in time with conservative ideologies.

Majeed Khawar, a Police Officer, really works hard to assimilate in America, the land he came to when he was 17. At 43, he has done well, is respected at work and after the early death of his wife, has been a single father to a confident, seventeen year old daughter DUA, a high school senior. A trained ballet dancer since childhood, Dua is now lead performer for Devon's dance team, Chicago's bustling South Asian bubble, where both Majeed and Dua live. All is status quo till Baba, Majeed's orthodox father arrives from Pakistan, without notice.

Majeed is blind to his background in the way of working for the law. So when he is asked to go undercover in his own mosque, he is appalled and resistant at first. Meanwhile at home, Baba masterfully lures Dua into traditional taboos of dancing and as a result, she decides to take a step back from her passion, a move all too familiar and painful to Majeed in light of his deceased wife, who was also a dancer in a conservative environment.

Majeed has to face the crossroads of being true to himself and his individual identity against the expectation of tradition and family.
---
GENRE Narrative Feature

DIRECTOR Iram Parveen Bilal
SCREENWRITER Iram Parveen Bilal
PRODUCER Iram Parveen Bilal, Joy Ganes

WEBSITE iramparveenbilal.com
---
Please help support this project with a tax deductible contribution.