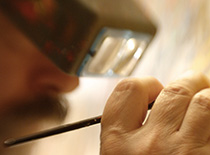 A Doorway to Joe
ABOUT THE PROJECT
SYNOPSIS / DESCRIPTION
Joe Coleman is an artist who plumbs the darkest reaches of the human psyche. Painter, performer and collector of oddities, he lives and creates in the liminal realm between light and shadow, guided by his relentless search for 'soul'. Death, murder and violence are common themes woven throughout his work, with subjects running the gamut from outlaws and serial killers to friends and family. Both lauded and vilified, Joe's artwork rarely produces passive responses from the audience. His paintings have been exhibited in museums around the world and hang in the collections of Iggy Pop, Jim Jarmusch, Leonardo Di Caprio, Johnny Depp and late, legendary artist H.R. Giger.

Currently in production, A DOORWAY TO JOE is a new kind of non-fiction feature, unbound by established rules of the genre. Using a cinéma vérité approach combined with a dramatic narrative aesthetic creates a film that does not look or feel like a documentary. Real. Visceral. Dangerous. A DOORWAY TO JOE explores the life and vision of this unique artist and reveals how sometimes the brightest of truths can lie in the darkest of shadows.
---
GENRE Documentary Feature

DIRECTOR Scott Gracheff
PRODUCER James Muscarella


---
Please help support this project with a tax deductible contribution.