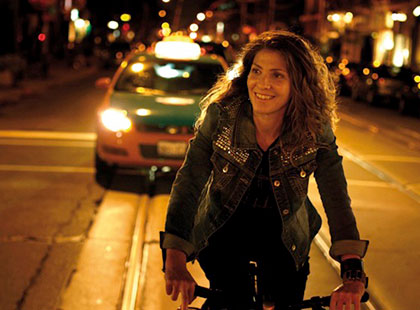 Portrait of a Serial Monogamist
2015 | Canada | 84 min
ABOUT THE FILM
Elsie, a fortysomething television producer and serial monogamist, is beginning to feel restless in yet another long-term relationship. She decides it is time to break up with her girlfriend and pursue the young DJ/barista she has had her eye on. After successfully landing who she thought was the girl of her dreams, Elsie is faced with the disapproval of her friends and family and the growing realization that she may have broken up with her soulmate.

From award-winning writer/directors John Mitchell and Christina Zeidler, PORTRAIT OF A SERIAL MONOGAMIST uses Toronto's Queen West queer community as the backdrop for this hilarious, honest and oh so romantic comedy about the coming of middle age. Destined to become a queer Canadian classic, the film features a stellar cast of Canadian talent that includes Diane Flacks, Vag Halen's Vanessa Dunn, Gavin Crawford, Sabrina Jalees and many, many more.
---
Writers & Directors
John Mitchell, Christina Zeidler
Producers
Mehernaz Lentin, Christina Zeidler
Editor
Terrance Odette
Cinematographer
Celiana Cárdenas
Production Designer
Kristy Hollidge
Costume Designer
Ginger Martini
Cast
Diane Flacks, Carolyn Taylor, Caroline Gillis, Shoshana Sperling, Dawn Whitwell, Vanessa Dunn.
---
FESTIVALS
2015: InsideOut Toronto (World Premiere), Frameline
FESTIVAL TERRITORIES
The World (Outside the U.S.)
U.S. Distributor: Wolfe Releasing
EXHIBITION FORMATS
DCP, Blu-Ray
---
PRESS KIT

---
Available Press Images (click to preview)

DOWNLOAD IMAGES
DIALOGUE LIST
WEBSITE