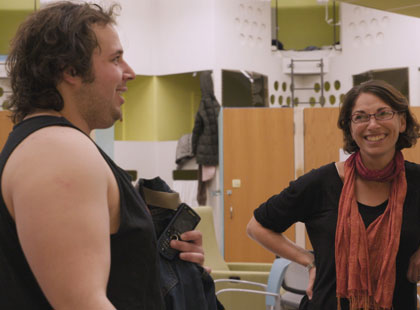 Y2Y
a bold experiment
ABOUT THE PROJECT
LOGLINE
What happens when young adults—Harvard students and homeless youth—join forces to end homelessness?
SYNOPSIS / DESCRIPTION
A 22-bed homeless shelter for young adults—run by young adults—has just opened in Harvard Square. It is a bold experiment—the first of its kind. Over the next two years, I have exclusive access to follow what happens as idealistic Harvard students work with their homeless peers to create a better model for ending homelessness. It's wildly ambitious, unpredictable, and whatever happens, it will be an amazing story.

The challenges these young people are facing together are huge. But that's not stopping them. Three years ago, two college sophomores dreamt of opening a young adult homeless shelter in Cambridge. And no one thought they'd get this far.
---
GENRE Documentary Feature

DIRECTOR Laurie Kahn
PRODUCER Laurie Kahn

WEBSITE blueberryhillproductions.com/y2y
---
Please help support this project with a tax deductible contribution.