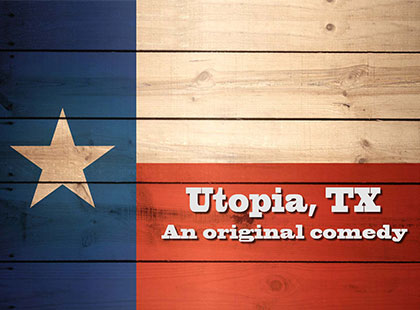 Utopia, TX
ABOUT THE PROJECT
LOGLINE
In an effort to save her series with the New York Times, a clever journalist infiltrates the isolated theocracy of Texas twenty-five years after its secession to write about the bizarre patriarchy and outrageous culture, but when she bonds with the sisters she didn't know she had, she puts herself and them in great danger.
SYNOPSIS / DESCRIPTION
UTOPIA, TX is a proof-of-concept short aimed at securing production with a major cable network or on-demand platform. It's a dark satire with a female point-of-view one woman's exploration of a fictitious culture that has eliminated the separation of Church and State. Playing on dystopian tropes, the series brings a comic, but sometimes dramatic twist to the crazy what-if-scenario of an American region ruled by an oppressive self-proclaimed prophet, that mirrors our country's present issues.
---
GENRE Narrative Short

DIRECTOR Kevin T. Morales
PRODUCER Brenna Palughi, Kevin T. Morales

WEBSITE utopiatxtourism.wordpress.com