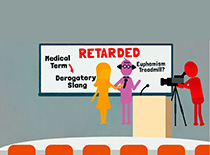 The R-Word
ABOUT THE PROJECT
LOGLINE
A film about how the power of words, and the love between siblings, can inspire a movement
SYNOPSIS / DESCRIPTION
Everyday the word retard(ed) can be seen and heard at school, at work, at home, on the playground, on public transportation, in TV, in movies, in music, and all over social media. The inappropriate use of the r-word as a derogatory slang term used to put people down continues to marginalize and dehumanize an entire population of people and their families and friends. But there is a social and cultural movement afoot and now is the time to leverage this momentum for change.

THE R-WORD will confront the word retard(ed). It will investigate the evolution of the r-word, from its origins to its current place in popular culture, as well as its relevance globally. This film will ask why this word is still relevant and what is at stake if people do not stop using the r-word.

This film will tell the stories of a diverse group of individuals with intellectual and developmental disabilities who have the same hopes & fears as everyone else, and of their siblings who advocate on their behalf and turn their love and pride into action. This film will challenge every viewer to put their mind where their mouth is—inspiring and encouraging everyone to think before they speak.
---
GENRE Documentary Feature

DIRECTOR Amanda Lukoff
PRODUCER Amanda Lukoff, Daniel Egan

WEBSITE therwordfilm.com
---
Please help support this project with a tax deductible contribution.