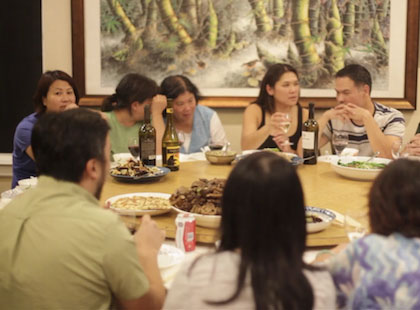 Sunday Dinner
ABOUT THE PROJECT
SYNOPSIS / DESCRIPTION
Kwok Wai Chan (Willie) has cultivated a ritual out of making Sunday dinner, from early morning tea to shopping in Chinatown to the intricacies and timing of elaborately cooking the food from his childhood, sustaining a weekly tradition that now spans the generations.

SUNDAY DINNER is a slice of life documentary short. The entire story takes place on a single Sunday in the home of Kwok Wai Chan (Willie), who prepares dinner for his large and close-knit Chinese family every Sunday.

The film follows him from the quiet of the morning at 7 am when he decides with his wife what to prepare to the whirlwind shopping expedition in San Francisco's Chinatown to later in the afternoon as he directs this culinary operation. The house is a cacophony of sound and a swirl of activity. Food fries in the wok. Lively conversations are underway. Children are everywhere playing, running, laughing. The love, affection and respect for family are palpable. "Daddy, this is really good," one adult daughter says to Willie, as the rest of the family talks, catching up on the week past and sharing plans for the week ahead. Hours later, the house begins to empty and quiet; order returns to Willie's home, where he is left with his wife, having tea and ending the day just as they began it. This film highlights the Chinese traditions of food and the value of family, but at its heart, it is an American story.
---
GENRE Documentary Short

DIRECTOR Casey Beck
PRODUCER Mary Cardaras, Kerry Chan

WEBSITE Facebook Page
---
Please help support this project with a tax deductible contribution.