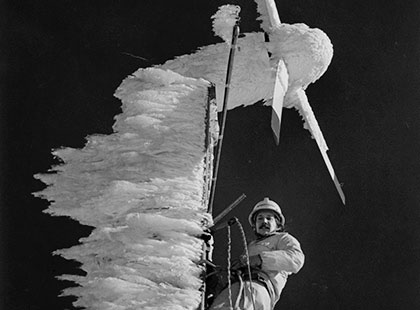 Shape of Wind
ABOUT THE PROJECT
LOGLINE
The pioneers of American wind energy, from yesterday's mavericks to today's champions, evolve in-step with national and natural forces.
SYNOPSIS / DESCRIPTION
America's wind industry began in Vermont with intrepid hippies ordering turbines through catalogues and hauling components up mountains. Bob Sherwin, one of the founders who now operates a global wind energy company, recalls the early days of inspiration and innovation. He was a scrappy young entrepreneur, operating on the fringes, challenging the oil giants and an intractable political system built on finite resources. With political and industrial will against him, this pioneer saw potential in an ever-present force, an aspect of our environment barely noticed by most.

The story rolls across the country to Kansas where a family farm has recovered thanks to their new crop—wind. The matriarch of the family explains the dire circumstances of an agricultural family on the brink, saved by a natural resource they didn't realize could work for them. Wind had long been the enemy of their crops, fences, and water supply. Today it is their leading source of income, and will preserve this way of life in America's heartland.

To Colorado where wind power is the #1 new employer. There a former oil field worker now works the windmills. He comes from generations of "roughnecks";—men who worked to power America with oil and coal. He's seen the oil industry falter in his state and wind power fill the void. He has hope for the future, for a lasting solution for the country's power needs, and for generations of his own family to continue to work to power America.

In California, an engineer describes the mechanics of wind. He takes the viewer through a wind farm where the workings and immense scale of these machines comes into focus. He explains how wind can be transformed into electricity and explains the need for renewable power sources.

In Nebraska, a visionary investment giant explains his outlook on the future. He's studied the changes in our power infrastructure and consumption; Google is using wind power to fuel their servers—their most valuable holdings. Hospitals and other large industrial consumers are also deriving their power from wind, and he feels more secure knowing his investments lie in a renewable resource. He, however, alludes to a more robust European industry and an unsteady US political climate - a counterpoint that if not taken seriously, portends a weak and vague energy future in America. As the film explores the state of wind, its successes and challenges, a vision for its future begins to unfold.
---
GENRE Documentary Short

DIRECTOR Paul Yoo
PRODUCER Paul Yoo, Ali Sargent

WEBSITE wavepartmedia.com
---
Please help support this project with a tax deductible contribution.