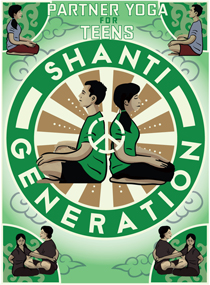 Shanti Generation
ABOUT THE PROJECT
SYNOPSIS / DESCRIPTION
This project provides free and discounted yoga and mindfulness content to schools. It uses visual and written media to encourage and increase social, emotional, physical and mental health and intelligence. The programs include specific, developmentally appropriate techniques to be incorporated into classrooms and physical education curriculums, to help schools get their programs started.

The program involves two media programs: Partner Yoga For Teens and Mindful Life Skills for Classrooms.
---
GENRE Educational Initiative

DIRECTOR Abby Wills, Michael Kuehnert

WEBSITE shantigeneration.com
---
Please help support this project with a tax deductible contribution.