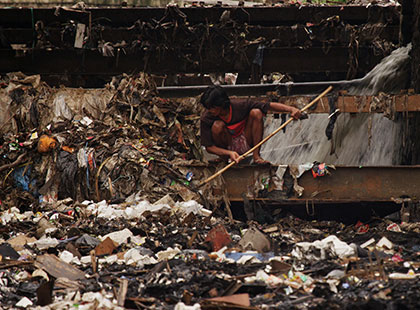 RiverBlue
ABOUT THE PROJECT
LOGLINE
An ambitious feature documentary film that uncovers how the fashion industry has impacted some of the major waterways of our planet through the manufacturing of jeans and other textiles.
SYNOPSIS / DESCRIPTION
How Dirty are Your Clothes?

RIVERBLUE set out to film the world's great rivers to help protect them, but in the process, uncovered the dark underside of the global fashion industry.

Through harsh chemical manufacturing processes and the irresponsible disposal of toxic chemical waste, the manufacturing of our clothing is destroying rivers globally.

From China's Pearl River and India's Ganges to the waterways of Bangladesh, we get a behind the scenes look at a major, yet under-reported contributor to the destruction of these global waterways.

The textile and tannery sectors account for 20% of the world's freshwater pollution, but they don't get nearly the profile of other big polluters. While examining the pollution produced by the blue jean manufacturing and tannery sectors, the film also explores the latest technologies and cutting-edge solutions to the problem.

"We saw this as a chance to profile the issue, bringing the message of river conservation to a broader audience, because we all buy clothes and leather goods, so I think it's a very timely topic." — Mark Angelo, International River Conservationist

Mastered in 4K, with images both stunning and shocking, RIVERBLUE acts as an "agent for change" regarding how our iconic jeans are manufactured.
---
GENRE Feature Documentary

DIRECTOR David McIlvride
PRODUCER Roger Williams, Lisa Mazzotta

WEBSITE riverbluethemovie.com
---
Please help support this project with a tax deductible contribution.