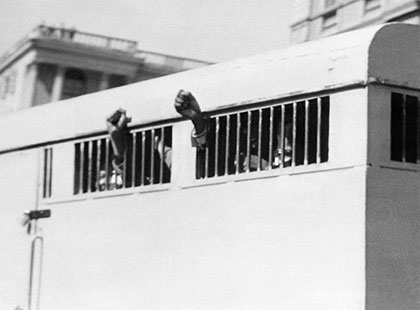 Keeping Time
The Story of Music in the Apartheid Prisons
ABOUT THE PROJECT
SYNOPSIS / DESCRIPTION
The story told by former political prisoners of how music and song brought resistance and hope to apartheid prisons in South Africa.

Drawing on the wider historical context of South Africa's antiapartheid struggle, KEEPING TIME: THE STORY OF MUSIC IN THE APARTHEID PRISONS explores music's critical role as a force for resistance and survival in the liberation movement, in particular at the maximum security prison of Robben Island where activists led by Nelson Mandela were imprisoned during the 1960s on, and at other notorious apartheid prisons including the women's jails.

With never-before-seen intimate interviews and archival footage, this one-hour film examines the development of musical activities in the apartheid jails and reveals how music provided a mode of resistance, critique and a strategy for undermining the white supremacist government, transcending political, linguistic and ethnic differences to unite an oppressed people against a common enemy.

With this rare film footage, authentic music, photographs and an on-the-ground stylistic approach, we immerse our viewers in the lives of our former political prisoners and their momentous historical times.

Until now, no film has ever explored the essential role of music at Robben Island and at other apartheid jails where communities diversified by tribal, racial and language identities turned political oppression and physical imprisonment to political advantage via the idiom of African sacred and popular song.
---
GENRE Documentary Feature

DIRECTOR Brian Tilley, Laurence Dworkin, Janie Cole, Nancy Galdy
PRODUCER Brian Tilley, Laurence Dworkin, Janie Cole, Nancy Galdy

WEBSITE musicbeyondborders.net
---
Please help support this project with a tax deductible contribution.