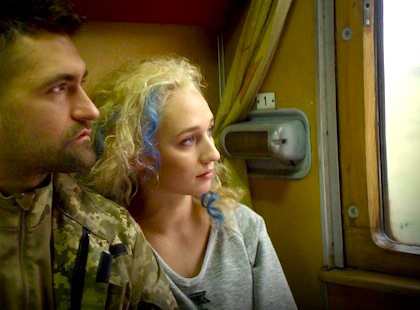 Julia Blue
ABOUT THE PROJECT
LOGLINE
A love story set in modern day, post-revolutionary Ukraine between Julia, an idealistic student activist and a wounded soldier fresh from the warfront.
SYNOPSIS / DESCRIPTION
JULIA BLUE was shot entirely on location in Ukraine, capturing the unvarnished realism of the country today. It depicts the modern metropolis that is Kyiv and what life is truly like in the rural Carpathian Mountains of the West, where babushkas text while simultaneously following centuries-old customs and their youth retains its national pride.

The film takes place two years after the first protests on The Maidan (Independence Square) in Kyiv and captures a specific place during a very specific time, memorializing a fleeting moment of history. The protagonists, Julia and English, are a reflection of the country's youth. They are all facing a very real and dangerous war, with open hearts and rebellious spirits, and all of it in a quest for freedom.

A character-driven drama, featuring Ukrainian culture and current events, JULIA BLUE dives into the psyches of a determined twenty-something and a damaged war hero.
---
GENRE Narrative Feature

DIRECTOR Roxy Toporowych
PRODUCER Nilou Safinya

WEBSITE juliabluethemovie.com
---
Please help support this project with a tax deductible contribution.