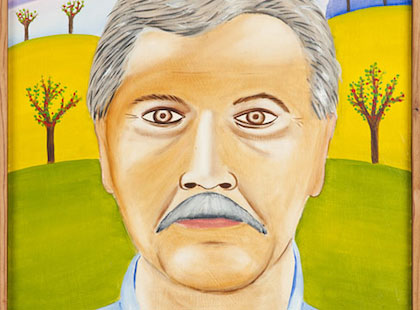 Fritz
ABOUT THE PROJECT
LOGLINE
FRITZ blends aspects of comedy and drama, reality and surrealism in a portrait of the artist as a 70-year-old man. This character-driven film proves you are never too old, or too odd, to pursue greatness.
SYNOPSIS / DESCRIPTION
A forgotten darling of the NYC art world, Fritz, a Swiss-born painter once partied with Jasper Johns, flipped SOHO studios, painted controversial murals on city buildings, and sparked love affairs with muses and maestros alike. Despite his burgeoning fame, in the late 1970s Fritz moved to Vermont and his name faded from the lips of art mavens and culture critics. In his new home—the small town of Corinth—Fritz embraced the roles of farmer, father, and community leader—the self-proclaimed "mayor" of the small town. He trained draft horses for sleigh rides, built two homes, raised his daughter Margo, and all the while continued to paint.

Now 70, Fritz will return to New York as a "new" artist. He has not exhibited his paintings in the city in over three decades, but this spring he has been offered a show at the Georges Berges Gallery in SOHO—the heart of the NYC art world.

The documentary follows the artist through a pivotal year: from his 70th birthday to his 71st. Central to the film is the relationship between the painter and his new gallerist, Georges—a foppish 43-year-old gallery owner and art dealer. Georges is at once an adolescent know-it-all and effective gadfly. The tension, and collaboration between artist and dealer, between men of different generations, between Fritz's spirit and Georges' expectations develops over the course of the film as they take on the financial and personal risks of launching the show in SOHO.
---
GENRE Feature Documentary

DIRECTOR Ali Sargent
PRODUCER Paul Yoo

WEBSITE wavepartmedia.com