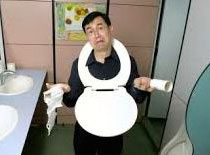 Flush Revolution
ABOUT THE PROJECT
SYNOPSIS / DESCRIPTION
FLUSH REVOLUTION is a feature-length documentary that tells the story of the world's shit, the people affected by it, and the international leaders on a mission against emotional, cultural and social constructs that prevent sanitation from being recognized as a pressing and preventable health epidemic.

FLUSH REVOLUTION goes beyond the facts of the issue and puts a face to those who suffer most from inadequate sanitation system. The film also follows leaders across the world who are working to re-imagine and rebuild it. These revolutionaries include: Jack Sim, also known as "Mr. Toilet," founder of the United Nation's World Toilet Day; Dr. Bindeshwar Pathak, the founder of the Sulabh International and a pioneer of low cost sanitation; The Bill & Melinda Gates Foundation, who proposed an international challenge to the top University minds in the country to create the safest, most affordable sustainable toilet the world has ever seen.

Ultimately, FLUSH REVOLUTION is an echo of Gandhi's belief that sanitation is a problem deserving of the world's attention.
---
GENRE Documentary Feature

DIRECTOR Lily Zepeda
PRODUCER Tchavdar Georgiev, Lily Zepeda, Eugene Efuni

WEBSITE flushrevolution.com
---
Please help support this project with a tax deductible contribution.
Custom Denomination:
$100 Donation:
$250 Donation:
$500 Donation:
$1000 Donation: