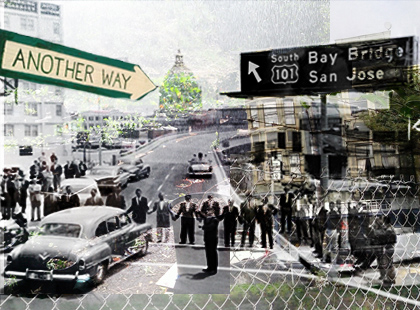 Exit Zero
San Francisco Freeway to the Future
ABOUT THE PROJECT
LOGLINE
A multi-linear i-doc about the intersections between a San Francisco freeway, the Great Freeway Revolt, an earthquake, a temporary garden and urban planning.
SYNOPSIS / DESCRIPTION
EXIT ZERO is a multi-linear, interactive documentary about a central San Francisco city block where the exit ramps to the Central Freeway once stood and which became the site of the "interim-use" Hayes Valley Farm community garden from 2010-2013. As a landscape documentary, EXIT ZERO provides viewers with a visceral understanding urban transformation over time; a framework for understanding place as an infrastructure for collective manifestations. Privileging improvisational discovery, the interface of the documentary will present viewers with a number of different thematic and branching pathways, structured as various kinds of walking tours through history.

These pathways will bring viewers through the various time periods and phases of the site by following one or more temporal-spatial themes such as mobility, the commons and temporariness. Highlighting the little-known history of mid-twentieth century freeway revolts in San Francisco, EXIT ZERO makes the case for how transportation alternatives activism and the organics/food justice movement shaped the character of Bay Area urban environmentalism. Validating the multiple forms of political resistance to capitalist and colonialist forms of enclosure, this documentary makes the case for the continued relevance of anti-freeway activism, community gardening and struggles to maintain access to common space today. It provides a structural view of gentrification, moving beyond simplistic narratives of blame, to demonstrate how urban planning and citizen activism can shape and transform the development of the city.

By focusing on both the temporal and spatial dimension the different historical changes to the site, this interactive project will argue that both social (class) mobility and physical mobility (public and private forms of transportation) are integral to understanding the complexities of how we practice urban environmentalism, asking viewers to question who and what is maintained and who/what is displaced in the name of "sustainability."
---
GENRE Documentary Feature

DIRECTOR Samuael Topiary
PRODUCER Samuael Topiary


---
Please help support this project with a tax deductible contribution.