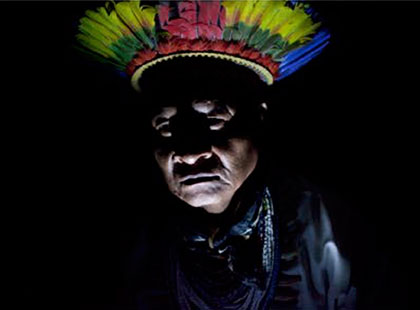 Dark Forest
ABOUT THE PROJECT
LOGLINE
A young psychiatrist steps out of her depth while searching for a former patient who went missing while looking for a "miracle cure" in the jungle. In the complex world of Amazonian shamanism, she finds her herself battling against mysterious forces she neither understands nor is convinced she believes in.
SYNOPSIS / DESCRIPTION
Louise is on the verge of completing her residency in psychiatry when one of her young patients runs off to the jungle. Sebastian is headed to a new-age center in the Amazon to be cured with the mind-altering shamanic brew, ayahuasca, leaving his mother distraught. When a series of mistakes and bad decisions leave Louise feeling responsible for this family's plight and as though she has nothing left to lose, she heads to the Amazon to search for him herself. But as soon as Louise arrives at Madre Tierra Healing Center, Maarten, the retreat's charismatic owner, informs her that Sebastian is gone.

Madre Tierra is a mini-Eden, populated by a group of international hippies and run by facilitator Marianne, who manages "community relations" with the neighboring indigenous village. Louise is impressed by Maarten's own story of recovery from addiction with medicinal plants and soon seduced by his Utopian lifestyle. But she's also irked by a tension she senses between the staff and their gringo bosses. Nowhere is this tension more apparent than in Camilo and Maarten's relationship. Grandson of the shaman who healed Maarten, and co-founder of Madre Tierra, Camilo is living in mysterious exile in the jungle with his daughter Rosa. Though Camilo shuns her, Louise connects with Rosa over both having lost their mothers too young, and she's intent on understanding what's going on. However, Ayahuasca plunges Louise into even deeper mysteries when her hallucinations seems to reveal details of Sebastian's fate.

Louise is terrified, and confused about who to believe; the locals who insist her visions are more than just a bad trip, or Maarten. Things become more complex when she discovers that reporting what she now suspects about Sebastian's fate, she'll put the villagers at significant risk as the town's economic survival and protection against outside dangers is inextricably linked to Maarten's center.

DARK FOREST has been awarded a residency at the San Francisco Film Society FilmHouse, the Film Independent Fast Track Alfred P. Sloan Production award, and two San Francisco Film Society / Kenneth Rainin Foundation Grants (Screenwriting and Packaging). It also participated in the Sundance Labs' Female Filmmakers Initiative Financing Intensive.
---
GENRE Narrative Feature

DIRECTOR Elena Greenlee
PRODUCER Márcia Mayer and Gabriel Blanco


---
Please help support this project with a tax deductible contribution.