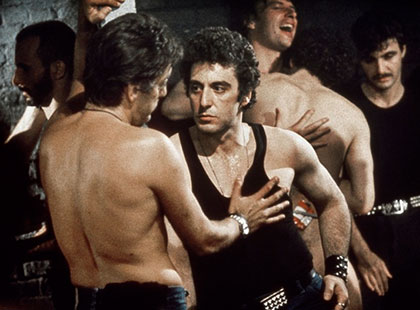 Cruising 1979
ABOUT THE PROJECT
LOGLINE
The protests against William Friedkin's 1980 film CRUISING became a flash point in the emerging gay rights movement, but the real-life events surrounding it — a series of gruesome murders, a cop going undercover to catch a killer, and a Village Voice journalist who led the protests against the film — is an even more sensational story.
SYNOPSIS / DESCRIPTION
In the summer of 1979, gay activists swarmed Greenwich Village to protest the shooting of William Friedkin's CRUISING. Inspired by Paul Bateson, a real-life murderer who was also an extra in Friedkin's THE EXORCIST, the film told the story of a gay serial killer stalking New York's leather community. For the increasingly visible gay community—long portrayed by Hollywood as perverts and psychotics and villains—CRUISING was a flashpoint, a chance to strike back against dangerous stereotypes. Over the course of production, gay protestors disrupted Friedkin's shoot with mirrors and air horns and marches. They attacked the release in op-eds and editorials and boycotts.

While CRUISING took heat for its leather-obsessed killer, the real crime was the NYPD's disinterest in solving nearly a dozen brutal gay murders, even as the bodies piled up, and panic gripped New York. After the murder of a prominent film critic, a Village Voice reporter named Arthur Bell received a phone call—and a confession—from the killer, Paul Bateson. When Bateson was arrested for the murder, William Friedkin was shocked to realize this was the same man featured in THE EXORCIST's infamous arteriogram scene. Friedkin went on to direct CRUISING, inspired by Bateson's story, and the rest is film history.

CRUSING 1979 tells the story of the murders, the film they inspired, and the movement that arose in response to it. Directed by Emmy-award winning director Jeffrey Schwarz, CRUISING 1979 talks with filmmakers involved in the original production, veteran New York City activists who participated in the protests, extras and habitués of New York's leather bars, and former NYC police officers and prosecutors. Also, for the first time, we'll hear the story of mysterious killer Paul Bateson as told by his best friend, the last living witness to Bateson's tormented life.
---
GENRE Feature Documentary

DIRECTOR Jeffrey Schwarz
PRODUCER Jeffrey Schwarz

WEBSITE jeffrey-schwarz.com
---
Please help support this project with a tax deductible contribution.