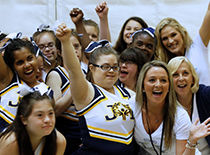 Cheers of JOY
The Road To The Special Olympics World Games
ABOUT THE PROJECT
SYNOPSIS / DESCRIPTION
CHEERS OF JOY is an intimate portrait of team JOY, the Special Olympics cheerleading team from Montgomery County, Maryland, and the dedication of its head coach to bring them and the sport of cheerleading to the world stage.

At the heart of the story is Coach Meaghan Smith, a former NFL cheerleader, whose "can do" attitude, love, encouragement, and focus on athleticism empower these special athletes by challenging them mentally and physically, and giving them a sense of inclusion, camaraderie, and acceptance both within the team JOY family and in the world at large.

Cheerleading is not recognized as an official international sport. Coach Meg refuses to accept the status quo. As we follow team JOY through their regular season in their quest for a third consecutive gold medal in the Maryland State Championship Competition, we learn of the movement this team has started to get cheerleading included in the Special Olympics World Games.

CHEERS OF JOY gives us an in-depth look at the impact Coach Meg and cheerleading have on the physical and cognitive development of these special needs athletes, and invites us to join them on this historic and inaugural journey to the 2015 Special Olympics World Games.
---
GENRE Documentary Feature

DIRECTOR Nancy Frohman
PRODUCER Nancy Frohman

WEBSITE cheersofjoyfilm.com
---
Please help support this project with a tax deductible contribution.