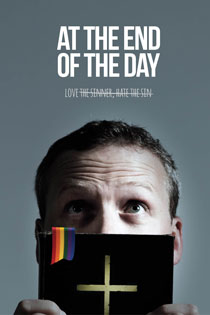 At the End of the Day
ABOUT THE PROJECT
LOGLINE
A fundamentalist Christian professor experiences a profound change when he finds himself undercover in a gay support group to foil their launch of an LGBT homeless teen shelter in their small town.
SYNOPSIS / DESCRIPTION
AT THE END OF THE DAY is based in grounded characters. Dave, a typical conservative Christian counselor, finds himself in a gay support group. This provides both the awkward comedy and heartfelt drama, as he is forced to rethink his preconceived notions of the LGBT community. His new boss, Gordon, is a Fox News-watching dean of the school. His passion for black and white answers gives him clarity in all things. Dave's eccentric Aunt Patty has lived accepting everyone while not worrying about what others think. She welcomes Dave, lovingly challenging his assumptions about love and faith.

As a straight Christian ally raised in a fundamentalist theology, it was only after the filmmaker reexamined his own upbringing that he could see past the fear and ignorance that feeds the anti-gay thinking. The humor gives this story an edge that most films discussing LGBT/Church issues don't have—making it more accessible on both sides.

The filmmaker's goal with this film is to give a big hug to LGBT people and show them as a normal, loving community and challenge the church to approach this topic with humility, apologizing for the hurt done in the name of love in the past years.
---
GENRE Narrative Feature

DIRECTOR Kevin O'Brien
PRODUCER Kevin O'Brien, Philip Marlatt

WEBSITE endofthedayfilm.com
---
Please help support this project with a tax deductible contribution.