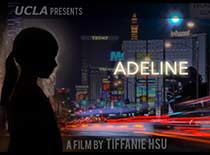 Adeline
ABOUT THE PROJECT
LOGLINE
Stranded in Las Vegas for Christmas vacation with her gambling-addicted mother, twelve-year-old Adeline Tang fights to keep her family together.
SYNOPSIS / DESCRIPTION
Las Vegas was created as a wonderland to encourage adults to leave their responsibilities behind. Countless stories have been told about the glitz and glamour, the schemes and cons, even the absurd comical hijinks adults get themselves into while escaping to Sin City. But when the adults are at play, what happens to the kids?

At age eleven, Adeline feels the burden of keeping her mother's gambling under control in order to keep her family together. She is aware of her mother's need for love and validation, but she also wants to be a kid. The stakes are further raised when she learns that her father has abandoned her to this fate—now, there's no escape from her mother's addiction.
---
GENRE Narrative Short

DIRECTOR Tiffanie Hsu
PRODUCER Pin-Chun Liu, Domenica Castro

WEBSITE Facebook Page