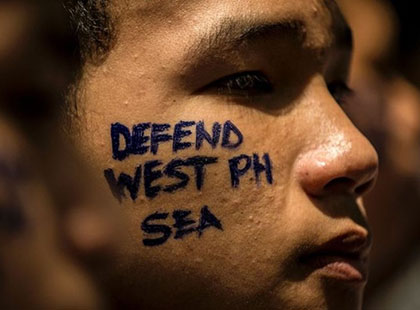 A Day with Hope
ABOUT THE PROJECT
LOGLINE
A single tiny island in the West Philippine Sea is key to controlling unimaginable oil wealth. We examine the lives of the besieged residents and tell their story.
SYNOPSIS / DESCRIPTION
Pag-asa, Hope Island in English, holds a small community of 200 souls hundreds of miles from the nearest civilization. By day the island is a tropical paradise, with a medical clinic, a school for children, and community gardens. But at night the island falls under siege. The beaches are lit up by the lights of patrolling Chinese warships which hurl abuse at the locals through powerful megaphones. Even the horizon is illuminated by the artificial islands being built by the Chinese navy—their work lights shining like second sons.

The film follows the lives of three local inhabitants: a fisherman, a soldier, and a little girl who has never left the island. They struggle to maintain their lives in the face of constant danger. The distant superpower 1,000 miles to the north could forcibly remove them anytime it likes and frequently threatens to do so. Should that come to pass, the residents would lose their homes, their livelihoods, everything they hold dear.

A DAY WITH HOPE examines how the locals on such a small, remote island came to be seen as a challenge to Chinese sovereignty simply by existing. It will tell the story of Chinese fishing militias—trained and armed by that country's navy—who force the Filipinos out of their own waters. It will tell the story of blocked supply vessels, hunger, and deprivation as the residents try to hold on to the only home many of them have ever known. Most of all, we will capture their hope that maybe, just maybe, tomorrow will be better than today.
---
GENRE Documentary Feature

DIRECTOR E Del Mundo
PRODUCER Jack Weinstein


---
Please help support this project with a tax deductible contribution.