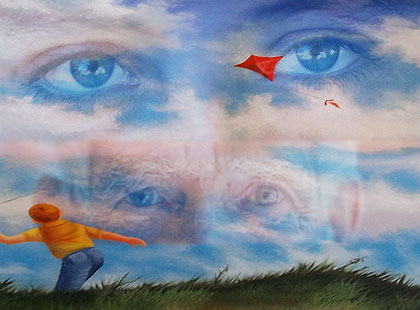 A Boy A Man and A Kite
ABOUT THE PROJECT
LOGLINE
A bedridden man, on the edge of death, comtemplates the sexual abuse he suffered as a boy and seeks resolution and redemption from his past.
SYNOPSIS / DESCRIPTION
A BOY A MAN AND A KITE (based on a true story) is a film about love, loss and child abuse. It's an abstract narrative short film based on true events in the early life of British composer Stephen Endelman who was sexually abused as a young man at Carmel College in the United Kingdom. Known before it closed down in 1997 as the Jewish Eaton, Carmel was of the finest boarding schools in England. It held a dark secret, which remained entombed until a British Crown Court case in 2015, when former housemaster Trevor Bolton was convicted on 16 counts of indecent assault, six counts of indecency with a child, and three other sexual offenses, for which he was sent to prison. In the summer of 2016 the verdict was upheld in an appeal.

The film opens and closes with a red kite flying fearlessly and joyfully in the wind. It's a metaphor for freedom and represents both the protagonist's present as the kits is battered and buffeted by the wind and his future as it's allowed to soar upwards.

We use an abstract visual form to tell is very painful story. The film blends two time periods 1979 and the present where we meet our protagonist Daniel and our antagonist Trevor at two different ages. As the piece progresses we see the balance of social power shift in favor of Daniel, who finds a form of salvation in his music and refuses to succumb to the descendancy so common in victims of abuse. However the shame starts to eat at him and he finds himself dying. The film looks at pivotal moments in a man's life as he approaches death and seeks resolution from an all-consuming shame.

At the heart of the story is the concept of injustice and shame and a hypothesis that in silence there is a benign conspiracy to avoid difficult subjects. In the film we visit moments of love, panic, confusion, ignorance, mental and emotional impotence.
---
GENRE Narrative Short

DIRECTOR Adam Matalon
PRODUCER Adam Matalon p.g.a, Stephen Endelman


---
Please help support this project with a tax deductible contribution.