Dear Collaborators,

Outfest is upon us, a community calendar update, a new blog post and tidbits are what we have to offer in the first of our July emissives!


---
Outfest 2012 is underway!
We're still recovering from last night's exceptional screening of VITO, the opening night of Outfest. TFC has worked with many films at Outfest this year, so be sure to check them out on our site, on Outfest's 2012 festival page, or in Fandor's or indieWIRE's wrapup.
---
July 2012 TFC Community Calendar



Last month we told you about First Pond Entertainment's release of director Julia Ivanova's FAMILY PORTRAIT IN BLACK AND WHITE.

The film OPENS TODAY in New York at AMC 25, with hopefully more cities to follow.

Producer Boris Ivanov was kind enough to tell us a bit about his deal with Oliver Ike of First Pond Entertainment. Boris informed us that, having already secured a theatrical in Canada, they had already been through the process of re-doing the film's key art after Sundance and creating a DCP for theatrical. They did spend some money on advertising for the NY release, though perhaps less than an exhibitor would require, with a boost from non-dedicated eblasts from ITVS and Sundance Artists' Initiative. This was not really a straight booking deal or a service deal per se but more of a hybrid: First Pond Entertainment used their connections to get AMC Independent on board and their split on the net on this is remarkably amicable.

For more info, go to the Facebook events page or the film's website.




FAMILY PORTRAIT IN BLACK AND WHITE is a member of TFC.







SOME GUY WHO KILLS PEOPLE came out on DVD last week. Visit the film's website for more information.




TFC consulted on distribution and handled sales in the US and English-speaking Canada for SOME GUY WHO KILLS PEOPLE.
---
New Blog Post
Fresh from her trip to Europe for the annual Federation of European Directors General Assembly and Sheffield DocFest, Sheri Candler will be posting a series of blogs about new tools she discovered on her travels. The first one was published this week.
---
News You May Have Missed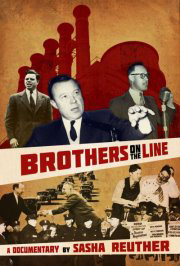 This month's stories you may have missed include a case study on a non traditional festival run, instructions on making a DCP on the cheap, and the winners and losers (so far) of this year's specialty box office.